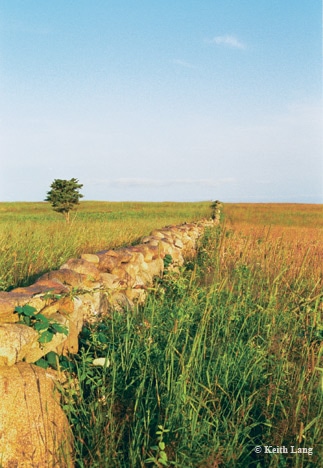 Is it any wonder that Block Island is a favorite destination place? The topography is unbelievable. Knolls rise out of nowhere and ravines appear without warning. Rodman's Hollow rolls and dips to a sea bordered by dunes and weathered clay cliffs. These natural wonders are enhanced by 350 miles of our treasured stonewalls that border and define the old farm and grazing lands. Block Island would not be the same place without these monuments to man's labor and ingenuity.
In the fall and winter seasons, the faithful Town Road Department clears and trims the stone walls that border the roads. This work starts in fall, and continues through the Winter depending on the severity of the weather. Then comes the spring growth. Before long, the walls have "disappeared" under a tangle of weeds, shrubs, and smothering vines. There are some exceptions, such as the walls in front of Mitchell Farm on Corn Neck Road, which are trimmed by non-town employees all summer. In the Summer the Town Road Department mows the heavy roadside growth, but that alone is a Herculean effort and allows no time to trim.
So here's where Adopt-a-Wall comes in. Mike Shea, head of the Town Road Department and former Director for BIC, is excited about this project. Choose your favorite stretch of wall and agree to trim it for the Summer. It can be near your house or farther away on an Island road. It can be 50 or 100 feet long or a mile. You can do it alone or with friends or family. All volunteers will be recognized in future BIC newsletters and the Block Island Times. To do a good job, it's best to start in April or early May and do a weekly trimming until growth begins to slow down. A grass trimmer can accomplish more in less time, but you don't have to have one. Just select a shorter length of wall.
If you'd like to volunteer, call Barry Saxe, Stewardship Director, at 401-466-3111. He'll send information on how to begin. He can also make suggestions if you don't know which wall to pick. BIC thinks this is a positive step to preserve the beauty of Block Island—at no expense! Plus it can be fun!